Tadej Pogacar – EPA
Thomas up to 10th, but loses 1min 18sec to Pogacar
Pogacar dominates to win Tour's first-time trial
Van der Poel hangs on to retain the yellow jersey
Roglic is on the road to recovery with a decent race.
Tadej Pogacar won the Tour de France in the stage five-time trial as Geraint Thomas and Primoz Roglic battled through the pain barrier to limit their time losses. Pogacar, who dramatically rode into yellow in the stage 20 time trial last September, could not quite repeat the feat as Mathieu van der Poel put in the time trial of his life to retain the leader's jersey by eight seconds.
But Pogacar's victory on the day – by 19 seconds from European time trial champion Stefan Küng – was a significant statement less than a week into his title defense. The UAE Team Emirates rider completed the rolling 27.2-kilometer course between Changé and Laval in a time of 32 minutes flat, with the main favorites grateful that rain from earlier in the afternoon had cleared by the time they started.
Having been one of the few overall contenders to have avoided significant trouble during a few days in Brittany, the Slovenian now has a considerable advantage over his rivals. But Roglic, heavily bandaged from his stage three crash, looked strong as he clocked the seventh fastest time on the day, moving back into the top 10 overall – though he is one minute and 40 down on Pogacar.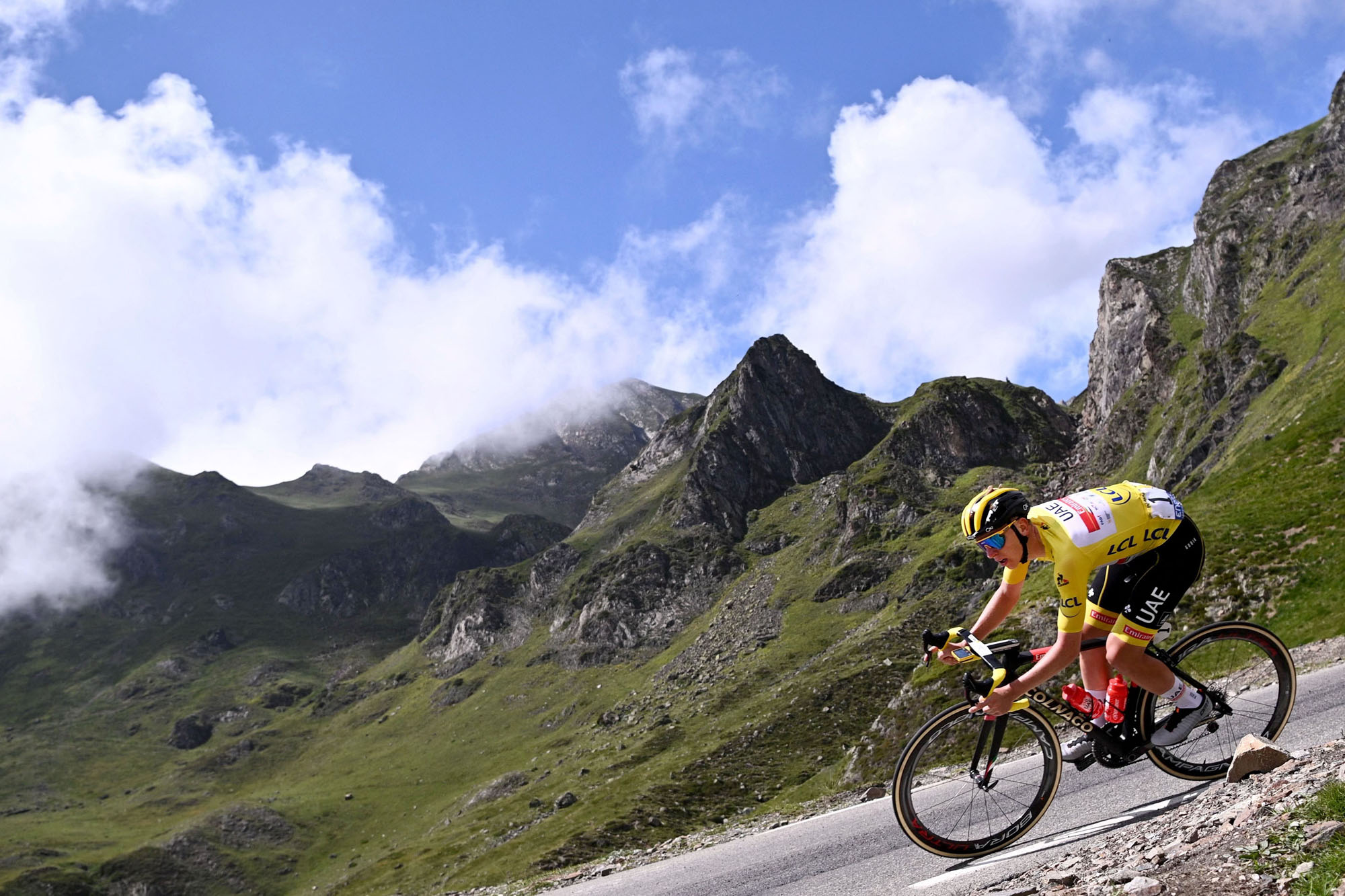 Strapped up after dislocating his shoulder on Monday, Thomas finished 16th on the day, conceding 1min 18sec to Pogacar but moving up six places to 12th overall. "I think I rode the best TT [time trial] I could, really," Thomas said. "I think I went out conservatively, maybe too conservatively, but it's just what I had.
"I didn't feel 100 percent, but I don't want to complain. I tried to do what I could, but it wasn't enough. "I didn't know what to expect. I woke up this morning and felt terrible, but once I got going and loosened up a bit, it was better, but it's just one of those things. You crack on and deal with it and keep fighting."
It was arguably the ideal scenario for Pogacar, who would not have been sorry to see Van der Poel retain yellow against the expectations of everyone – including the Dutchman himself. That will keep the demands of defending the jersey of the UAE Team Emirates for a few more days at least, with a sprint finish expected on Thursday in Châteauroux – where stage four winner Mark Cavendish will dream of a repeat of his first Tour stage victory back in 2008.
"Today was a perfect day for me," Pogacar said. "I didn't make any mistakes; it was perfect weather. Sadly, some guys had wet roads, but luckily I had perfect conditions, and the temperature was perfect. "The goal was not to lose time, but I gained time, so I'm super happy and excited for the whole Tour."
Julian Alaphilippe could not challenge Pogacar for the stage win, but he remains the closest of the overall contenders, now fourth, 48 seconds down. Thomas's teammate Richard Carapaz slipped six places to ninth, just four seconds ahead of Roglic and ten upon Thomas.
Chris Froome, whose time-trialing prowess helped power him to his four Tour victories, ticked off another significant day in his long road back from his 2019 crash – not to mention an opening day spill – even as he finished more than four minutes down in 121st.
"I was looking to push and open up a little bit," he said. "It was not an all-out effort, I probably gave that 85 percent, but I'm feeling alright and starting to feel the side I crashed on the first day is starting to work again. I'm certainly heading in the right direction." PA
03:24 pm
Pogacar wins stage five; Van der Poel keeps yellow!
A battling performance from Mathieu van der Poel (Alpecin-Fenix) and the Flying Dutchman, against all the odds, kept hold of that leader's yellow jersey after setting the fifth-fastest time on the day – 32min 31.82sec, 30.99sec slower than stage winner Tadej Pogacar (UAE Team Emirates). Stefan Küng (Groupama-FDJ), the European and Swiss time trial champion, was the second fastest. At the same time, Jonas Vingegaard (Jumbo-Visma), the young Dane who has enjoyed a great season so far with stage wins at the UAE Tour and Settimana Internazionale Coppi e Bartali along with the overall at the Italian race, again impressed with a third place.
As predicted at the top of the day, there was a bit of a shake-up in the general classification. Vingegaard moves up 15 spots on general type to eighth, two places higher than teammate Primoz Roglic who is now 10th. Although not shown below, Geraint Thomas (Ineos Grenadiers) moves up six spots. After losing 1min 18sec on the stage Po, car now trails the defending champion by 1min 46sec and is 10sec behind teammate Richard Carapaz.
Mark Cavendish (Deceuninck-Quick Step) keeps the top spot in the points competition and will wear green on the road to Châteauroux on Thursday, where he won his first Tour stage in 2008. Defending champion Tadej will again wear the maillot blanc, or the white jersey, as the best young rider. Vingegaard moves to second in the competition, and David Gaudu (Groupama-FDJ) drops to third. There were no changes in the mountains classification, so Ide Schelling (Bora-Hansgrohe) will be dressed in the maillot à pois as a leader in that competition for the fifth successive day.
03:22 pm
Alaphilippe is unlucky 13th
Julian Alaphilippe completes his race, but the Deceuninck-Quick Step rider is some way off the pace, finishing 1min 10.90sec behind Tadej Pogacar. Richard Carapaz loses 1min 43.73sec on Pogacar, buts on Wilco Kelderman, and should stay in the over10.
03:18 pm
Kelderman ships time
Not entirely sure what happened to the Dutchman, but he's not flying today. On the contrary, the Bora-Hansgrohe rider finishes 1min 48sec down on Tadej Pogacar. Wout van Aert, meanwhile, is the fourth fastest on the day.
03:15 pm
Can Van der Poel keep yellow?
The big question now is: can Mathieu van der Poel keep hold of the maillot jaune? If he does, the Dutchman should be able to wear it to Sunday's stage, where there is a smattering of category-one climbs you would imagine the climbers would put him to the sword.
03:12 pm
Pogacar topples the Küng
An unbelievable performance from the defending champion, who had set the fastest time of the day, which su indeed used the Slovenian to his first stage win at this year's Tour de France. Mathieu van der Poel, meanwhile, is flying, and it looks like he will hold onto his yellow jersey by around 15sec.
03:10 pm
Carapaz makes further losses.
Richard Carapaz is holding around the same pace but has lost around a minute today to Tadej Pogacar. The latter is on course to win today's stage, which will propel him up the overall standing and, in all probability, make him the highest-placed rider of the leading general classification contenders.
03:04 pm
Van der Poel is hanging on to yellow!
After riding the longest time of his career, Mathieu van der Poel passes through the first time split exactly as his lifelong rival Wout van Aert whi, the second-fastest of the day. As it stands, I think. Van der Poel will be keeping hold of that yellow jersey.
03:01 pm
Is Pogacar riding into yellow?
Julian Alaphilippe (Deceuninck-Quick Step) sets the 12th fastest time at the first split; Wilco Kelderman is the 19th fastest. Tadej Pogacar is 17sec faster than European time trial champion Stefan Küng at the second time break. Wow, another unbelievable performance from the Slovenian.
02:59 pm
Carapaz losing time
Richard Carapaz is over half a minute slower than Tadej Pogacar at the first split. Not great news for the Ineos Grenadiers rider, but that's roughly the same as his teammate Geraint Thomas.
02:57 pm
Van Aert second the best
Wout van Aert is second to Tadej Pogacar at the first split, while the Slovenian may be riding into the leader's yellow jersey today if he can sustain this pace. Mathieu van der Poel has yet to reach his first-time split though so difficult to judge just yet.
02:54 pm
Pogacar is going like a rocket.
It no huge surprise; the Groupama-FDJ rider is built for the climbs. Tadej Pogacar is flying; the Slovenian is the fastest at the first-time split. Next to reach that key marker is Wout van Aert. David Gaudu, meanwhile, is losing time. It n
02:52 pm
Thomas drops below Roglic.
Geraint Thomas has finished his time trial in one piece. However, the Welshman loses around 35sec to Primoz Roglic, which means he drops below the Slovenian on the general classification and, by my calculations, now trails him by 7sec.
02:48 pm
Showtime!
Wout van Aert is out on the course, as are Wilco Kelderman, Richard Carapaz, and Julian Alaphilippe. Next up will be Mathieu van der Poel, is the last man down the ramp. Th as race leader next 30 minutes may not prove decisive in the outcome of the Maillot Jaune. Still, it will undoubtedly give us a better indication of the form of the general classification riders.
02:46 pm
Roglic keeps Tour hopes alive.
Primoz Roglic has completed his time trial, and the Jumbo-Visma team leader sets the fourth-fastest time of the day, finishing the course in 32min 44.71sec – 25.61sec off the pace. I suspect the Slovenian will be gaining time on Geraint Thomas today, but the Welshman has yet to complete his race.
02:41 pm
Thomas loses more time on Roglic.
The shaman is around 24sec slower than Primoz Roglic, who is doing brilliantly today through the second time split. Roglic's teammate Jonas Vingegaardsets the second-fastest time of the day! And now Tadej Pogacar (UAE Team Emirates) is on the road.
02:38 pm
Urán looking good
Rigoberto Urán is doing a firm ride. The Colombian is fifth fastest at the first split, around 4sec slower than Primoz Roglic. Next down the ramp is Nairo Quintana, while Bauke Mollema, Sergio Higuita, Alexey Lutsenko, David Gaudu, and Pierre Latour are also out on the course.
02:35 pm
Roglic looking good
Primoz Roglic is holding that pace and is still the fourth fastest, riding at a shade below 50km (49.976km).
02:33 pm
Thomas is playing it safe
Geraint Thomas is losing time here today. The Ineos Grenadiers rider was 18th fastest at the first-time split, around 19sec slower than Primoz Roglic. The Welshman is taking the corners gingerly, making sure he stays upright.
02:30 pm
Vingegaard, another Great Dane.
Jonas Vingegaard, another Dane who is not bad at these time trials, is going steadily and is also second fastest at the second time split. Kasper As Green, however, has lost a few seconds and is down to third.
02:26 pm
Rigoberto rolls off
Rigoberto Urán ( EF Education-Nippo), who won the hilly time trial at the recent Tour de Suisse, has got his race underway.
02:24 pm
Roglic looking good
Primoz Roglic passes through the first of two intermediate time splits and is doing well. Just 6sec down on Kasper Asgreen would suggest he is not hurting as much as you would expect following his horrible fall during Monday's stage.
02:22 pm
Asgreen is flying the flag.
Kasper Asgreen is flying fastest at these timid, while Jonas Vingegaard (Jumbo-Visma) is second fastest. Geraint Thomas (Ineos Grenadiers) is out on the course.
02:16 pm
Roglic is rolling
Primoz Roglic has rolled down the starting ramp and has his time trial underway. How will the battered and bruised Slovenian deal with his injuries? Richie Porte (Ineos Grenadiers) has completed his race, which was impressive. The Australian is the third rider today to go under the 33-minute mark – 32min 55.80sec – with the third-fastest time of the day, 36.70sec slower than Stefan Küng, who is currently sitting in the hot seat.
02:12 pm
A screen on the road
Kasper Asgreen, the Danish national time trial champion, is out on the course, one that suits the amiable Deceuninck-Quick Step rider. But will he bring home the bacon today, or can Stefan Küng hold on for the win? Still to come, remember, is Wout van Aert and the likes of general classification contenders Primoz Roglic, Tadej Pocacar, and Geraint Thomas.
02:06 pm
Küng the time trialing Eurostar
Stefan Küng, resplendent in his European time trial champion's jersey, has set a new fastest time of 32min 19.10sec, with the Swiss becoming the first rider to go faster than 50km (50.500km).
Bernhard Eisel, the former professional working for Eurosport, said a few minutes ago that the Groupama-FDJ rider was powering along at 60km on one stretch of road, going into a headwind.
01:54 pm
Cattaneo goes into the hot seat.
Neilson Powless appears to have burned himself off too soon, and the young American has dropped the standings. By contrast, Mattia Cattaneo (Deceuninck-Quick Step) set the new fastest time at the finish… but Stefan Küng was the fastest at both the first and second-splits.
01:48 pm
A fan who caused a mass pile-up on stage one arrested
The spectator who triggered one of the worst multi-rider crashes in recent cycling history on the opening scene of the 108th Tour de France on Saturday has been arrested and placed in custody, according to RTL. More news here . . .
01:41 pm
Porte next down the starting ramp
Richie Porte is a decent-time trial rider, but will the Australian be going full gas, or will he hold something back to help Richard Carapaz and Geraint Thomas later in the race?
01:39 pm
Can Superman fly?
Miguel Ángel López (Movistar) is out on the course, and the Colombian, who has not always enjoyed the best of fortune in the trial, will be hoping to do a decent race.
01:36 pm
Powering away in a pink
Another EF Education-Nippo is out on the course, and another rider dressed in pink – Neilson Powless – is motoring. The young American making his second Tour appearance was fastest at the first intermediate time split. Wow. By the way, the rain has stopped, and the roads appear to have dried up.
01:34 pm
Küng goes neutral
Oh dear, I completely forgot that Stefan Küng was also a European time trial champion, and so the Swiss have the white and blue jersey of Europe's best tester on his shoulders.
01:26 pm
Out in numbers
Some big crowds are out on the course today, which is on the home turf of the Groupama-FDJ squad. One of their riders, Stefan Küng, is on the shortlist of favorites for the stage.
It will be interesting to see how Küng, the Swiss national time trial champion, is received by the crowds after his little joke with teammates the morning after France's penalty shoot-out defeat in the European Championship when he felt the need to put his Swiss gilet on over his team jersey. One assumes they will see it for what it was, a little bit of light-hearted ribbing.
01:11 pm
Cort leapfrogs Bissegger
Having set the second-fastest time at the second time split around 10km from the finish, Magnus Cort (EF Education-Nippo) manages to hold on despite a few tricky twists and turns – particularly in the wet–in the finale bump teammate Stefan Bissegger ​down to third.
01:06 pm
Thomas is getting the inside track.
Tao Geoghegan Hart (Ineos Grenadiers) completed his race a short while ago, finishing 4min 9.21sec slower than Mikkel Bjerg. Geoghegan Hart, of course, has been selected to represent Great Britain in the time trial at next month's Olympic Games in Tokyo. So British fans will be hoping today was a case of him holding a little back in reserve to help teammates Richard Carapaz and Geraint Thomas once the race reaches the more mountainous terrain.
Geoghegan Hart's teammate Luke Rowe, who was faster than the Londoner, spoke with Eurosport and told them that he was speaking with Geraint Thomas as he rode around the course. Rowe described the course as one for the 'power' riders and said he gave Thomas some last-minute tips on getting around the course safely. Thomas, by the way, will start his race at 3,16pm (BST).
12:54 pm
Bissegger is second best.
Disappointment for the Swiss rider Stefan Bissegger who is second fastest on the day so far, 21.09sec down on Mikkel Bjerg.
12:50 pm
McNulty bashed and bruised.
Omar Fraile (Astana-Premier Tech) does a decent ride, finishing in fifth place as it stands 45.12sec adrift of provisional leader Mikkel Bjerg. That's not fabulous for the young American, nor his teammate Tadej Pogacar who will be hoping for some help in the mountains from the 23-year-old. By the way, we have just had a better picture of Brandon McNulty, and it looks like he has hit the deck, which is undoubtedly the cause of that bike change I mentioned.
12:43 PM
Bissegger trails Bjerg
Brandon McNulty (UAE Team Emirates), the talented American rider here supporting teammate Tadej Pogacar, has taken a bike change. The rain still falls, which could have a massive say in today's stage. Stefan Bissegger has just passed through the second of two intermediate time splits with the second-fastest time of the day. For those newish to the sport or those who don't follow every race in the calendar, Bissegger is a first-year professional with two WorldTour stage wins on his palmarès: a time trial at Paris-Nice and a lumpy stage at this month's Tour de Suisse. The Swiss, however, is 19.51sec down on Mikkel Bjerg.
12:30 pm
Afternoon all
As it stands, 91 riders have either completed their time trials for the day or are out on the course as I type.
Riders who have finished: Amund Grondahl Jansen, Clément Russo, Daniel McLay, Ide Schelling, Roger Kluge, Marco Haller, Tony Martin, Reto Hollenstein, Marc Hirschi, Mads Pedersen, Rick Zabel, Chris Froome, Jasper De Buyst, Edward Theuns, Bryan Coquard, Omer Goldstein, Mike Teunissen, Sepp Kuss, Georg Zimmermann, Casper Pedersen, Pierre-Luc Périchon, Harry Sweeny, André Greipel, Jérémy Cabot, Mark Cavendish, Mikkel Bjerg, Daniel Oss, Luke Durbridge, Tim Declercq, Christopher Juul-Jensen, Nils Politt, Cees Bol, Arnaud Démare, Tosh Van Der Sande, Dmitriy Gruzdev, Tim Merlier, Jesús Herrada, Danny van Poppel, Simon Clarke, Nicholas Dlamini, Anthony Perez, Jorge Arcas, Petr Vakoc, Lukas Pöstlberger, Thomas De Gendt, Michael Morkov, Jelle Wallays, Jacopo Guarnieri, Maxime Chevalier, Max Walscheid, Jonas Koch, Miles Scotson, Luke Rowe, Davide Ballerini, Nacer Bouhanni, Lorenzo Rota, Sean Bennett, Jasper Philipsen, Carlos Barbero, Benoît Cosnefroy, Michael Schär, Jonas Rutsch, Fred Wright, Bruno Armirail, Imanol Erviti, Kristian Sbaragli, Nans Peters.
On the road: Victor Campenaerts, Ion Izagirre, Vegard Stake Laengen, Loïc Vliegen, Warren Barguil, Tao Geoghegan Hart, Jasper Stuyven, Patrick Konrad, Silvan Dillier, Dorian Godon, Jonathan Castroviejo, Omar Fraile, Carlos Verona, Valentin Madouas, Cyril Gautier, Cristián Rodríguez, Stefan Bissegger, Christophe Laporte, Brandon McNulty, Brent Van Moer, Rafal Majka, Michael Woods, Nils Eekhoff and Dylan van Baarle.
Bjerg (UAE Team Emirates), who won the under-23 title on a rain-soaked day at the Harrogate world championships in 2019, is sitting pretty in the hot seat, having set the fastest time of 33min 1.05sec (49.428km). However, one of the day's favorites Bissegger (EF Education-Nippo), has his race underway. Unfortunately for the Swiss, the rain had started to fall on the course, and the 23-year-old neo-pro had already had a scare on a right-hander when he briefly lost his front wheel before saving it at last. It was a fine save from the Swiss, though probably not the best of the week.
08:00 am
It is the first individual time trial at this year's Tour and one on paper for the natural testers. Long, but not ridiculously long. Rolling, but not hilly. There is enough in the 27.2km route from Changé to Laval to make this a technical challenge for anybody with designs on winning the stage or improving their position in the standings. So, in theory, it should be a fascinating afternoon of racing. Not La Planche des Belles Filles-type fascinating, but it will certainly be interesting to see how the likes of the battered and bruised Geraint Thomas (Ineos Grenadiers) and Primoz Roglic (Jumbo-Visma) cope on their insanely uncomfortable-looking time trial bikes.
The stage winner, most likely, will come from a list including Stefan Bississger (EF Education-Nippo), Stefan Küng (Groupama-FDJ), Kasper Asgreen (Deceuninck-Quick Step), and Wout van Aert (Jumbo-Visma). Ordinarily, of course, Thomas would be one of the favorites for the stage win but having dislocated his shoulder during Monday's stage, one suspects the Welshman will be in an awful lot of pain, which does not help when you are trying to make your frontal area as small and aerodynamic as possible, which is not necessarily the most natural of riding positions. In contrastsomeof others, including defending champion Tadej Pogacar (UAE Team Emirates), may also stand a decent chance of winning.
Most are expecting the overall lead will change hands later this afternoon. At the same time, with 20 points up for grabs in the race for the green jersey, we may also see Julian Alaphilippe (Deceuninck-Quick Step), who is no slouch when up against the clock and won a Tour time trial in 2019, regain the maillot vert off teammate Mark Cavendish. Weather-wise, some showers are possible, which will make riders and their teams very nervous, especially on the circuitous course's numerous 90º turns.
With time trials in stage races, riders will roll down the starting ramp in Changé in reverse order of their standing in the general classification. So Amund Grondahl Jansen (BikeExchange), who starts the day in the 177th spot 35min 33sec behind the Maillot Jaune, sets off first at 11.15 am (BST). The last man to get his trial underway will be race leader Mathieu van der Poel (Alpecin-Fenix), who sets off on his 'race of truth' at 3.50 pm. The total running order of every rider can be found below – note the times are Central European times, so if you are in the UK, take an hour off.
06:50 am
Catch-up: Highlights of yesterday's stage . . .
. . . can be watched here . . .
06:50 am
Bonjour!
Hello and welcome to our live rolling blog from stage two at the Tour de France, the 27.2km stage five time trial from Changé to Laval. It was the comeback of all comebacks. Mark Cavendish rolled back the years in Fougères on Tuesday afternoon to win his first stage at this year's Tour, the world's biggest bike race since 2016 and his first in the colors of Deceuninck-Quick Step since 2015.
After his well-documented problems on and off the bike – his battle with the Epstein-Barr virus and clinical depression and unhappiness with his team and equipment, as he alluded to in yesterday's post-race press conference – Cavendish's career appeared over at the end of last year. Patrick Lefevere and Deceuninck-Quick Step handed the then 35-year-old a lifeline. And now, against all the odds, he is back. He is back to winning, looking his brilliant best, and batting away questions about Eddy Merckx and that record of 34 stage wins at the Tour.
Watching Cavendish duck, weave, and power his way toward the line, it was as if we had been transported back in time to an era when the idea of a British rider winning a grand tour was fanciful. Back to a time when the notion of a Briton winning a stage at the Tour, or the Giro d'Italia or Vuelta an España for that matter, was the holy grail itself. As Cavendish quickly reminded people on Tuesday afternoon that winning a single stage at the Tour can be life-changing, the Manxman is in no mood to discuss that Merckx record.
"I spoke to Tim Merlier yesterday and said, 'You think your career changed by winning a stage of the Giro, win a stage of the Tour, you'll see your life change,'" Cavendish said. "And that's with one Tour de France stage win. I think it's only been half an hour since I've won, and you've already forgotten how big it is to win one Tour stage if you're asking questions like that [about the Merckx record]."
Regardless of whether he does win another stage or, whisper it, manage to match or even eclipse Merckx's record – and the stars are starting to align in his favor – Cavendish's comeback must indeed, as colleague Tom Cary wrote last night, rank as one of the greatest in sports history. It was emotional, a victory that sent shockwaves through the cycling world. But not the UK media, it seems.
Having looked at this morning's front pages, it would appear that Cavendish's phenomenal win does not warrant a single mention – plus ça change, plus c'est la même chose – which, although a little disheartening, is not wholly surprising. After all, it is not every day the England football team wins a major international tournament.
After finishing stage four safely, Mathieu van der Poel (Alpecin-Fenix) kept hold of the top spot in the general classification and will wear his second maillot Jaune, or leader's yellow jersey, during today's stage. Technically speaking, the Dutchman, who leads Julian Alaphilippe (Deceuninck-Quick Step) by 8sec and Richard Carapaz (Ineos Grenadiers) by 31sec, will probably be dressed in a yellow skinsuit for today's time trial, but that doesn't sound the same as saying he will be in the maillot Jaune.
As you may have worked out from the above picture, Cavendish also took the top spot in the points classification thanks to taking third in yesterday's intermediate sprint and the stage win.
It is a case of you being in the mountains classification, as there were no classified climbs yesterday, and it will remain the same until tomorrow. So Ide Schelling (Bora-Hansgrohe) will if he finishes today's time trial safely and within the lie limit, be wearing the maillot à pois, or polka dot jersey, again Thursday.
There were no changes in the upper echelons of the young rider classification. So defending champion Tadej Pogacar (UAE Team Emirates) keeps hold of the maillot blanc or the white jersey.